Wire Transfer Fraud Reports
Prevent 
Wire Transfer Fraud
Recent Fannie Mae and FBI fraud alerts on wire transfer fraud, identify more than 14,000 instances of this fraud scheme over the last year. Under this fraud scheme "hackers" send out a change of wire transfer instructions with the "new" account information.
PitchPoint's solution includes two components, verification of the bank account information and status report on the settlement agent. This comprehensive approach eliminates the risks of wire transfer fraud and ensures compliance with CFPB and secondary market service provider vetting requirements.
This service is available via our secure website, batch and is fully integrated into LOS platforms including: Byte, Calyx, Encompass, Empower and LendingQB.
Bank Account
Verification
Low cost, instantaneous results
The Commercial Bank Account Verification service removes this risk associated with loan funding. It validates account ownership and account status in many cases in real time to verify new account information without delaying funding. This reduces losses from inaccurate data and fraudulent account number manipulation.
The account holder name, routing number and account number are first verified against up-to-date information and via a secure financial network for thousands of participating banks. For banks not on the network, a verbal verification is used. The result is a low cost and in most cases an instantaneous verification.
Perform due diligence and monitor service providers
The Settlement Agent Report provides key information on the settlement company or agent to ensure compliance with the CFPB and investor requirements to perform due diligence and monitor service providers.
The report tests the title insurance agent license or attorney bar card status and then checks for sanctions, exclusion list matches and derogatory records. Additional data on the company or agent can be added to the report.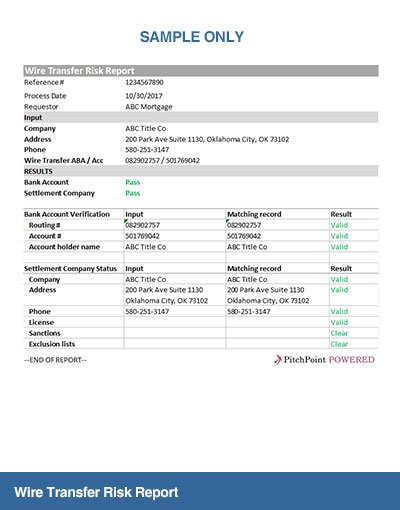 A two-part report verifying both the bank account information and the settlement company status. The result is a low cost and in most cases an instantaneous verification.